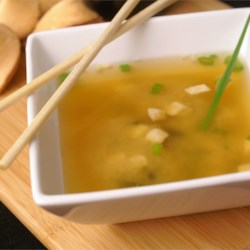 2 teaspoons dashi granules
4 cups water
3 tablespoons miso paste
1 (8 ounce) package silken tofu, diced
2 green onions, sliced diagonally into 1/2 inch pieces
In a medium saucepan over medium-high heat, combine

dashi granules

and

water

; bring to a boil.

Reduce heat to medium, and whisk in the

miso paste

.

Stir in

tofu

.

Separate the layers of the

green onions

, and add them to the soup. Simmer gently for 2 to 3 minutes before serving.
Notes:
I realize this includes some obscure ingredients, but it is worth it! Dashi granules and miso paste can be found in any Asian market. The miso paste will be in the refrigerated section. I like yellow miso paste, it is creamier and sweeter. Red miso paste is saltier and stronger. Dashi granules will be in a jar or a packet, and likely with other soup bases unrefrigerated.
Yields 4 servings.