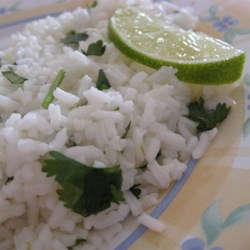 2 cups water or chicken stock

1 tablespoon butter
1 cup long-grain white rice
1 teaspoon lime zest
2 tablespoons fresh lime juice
1/3-1/2 cup chopped cilantro
In a saucepan heat the

butter

until melted over medium-high heat. Add

rice

, and cook for 2-3 minutes, stirring frequently.


Add the

water or stock

, and bring

to a boil.


Cover, reduce heat to low, and simmer until the rice is tender, about 20 minutes.

Stir the

lime zest, lime juice,

and

cilantro

into the cooked rice just before serving.